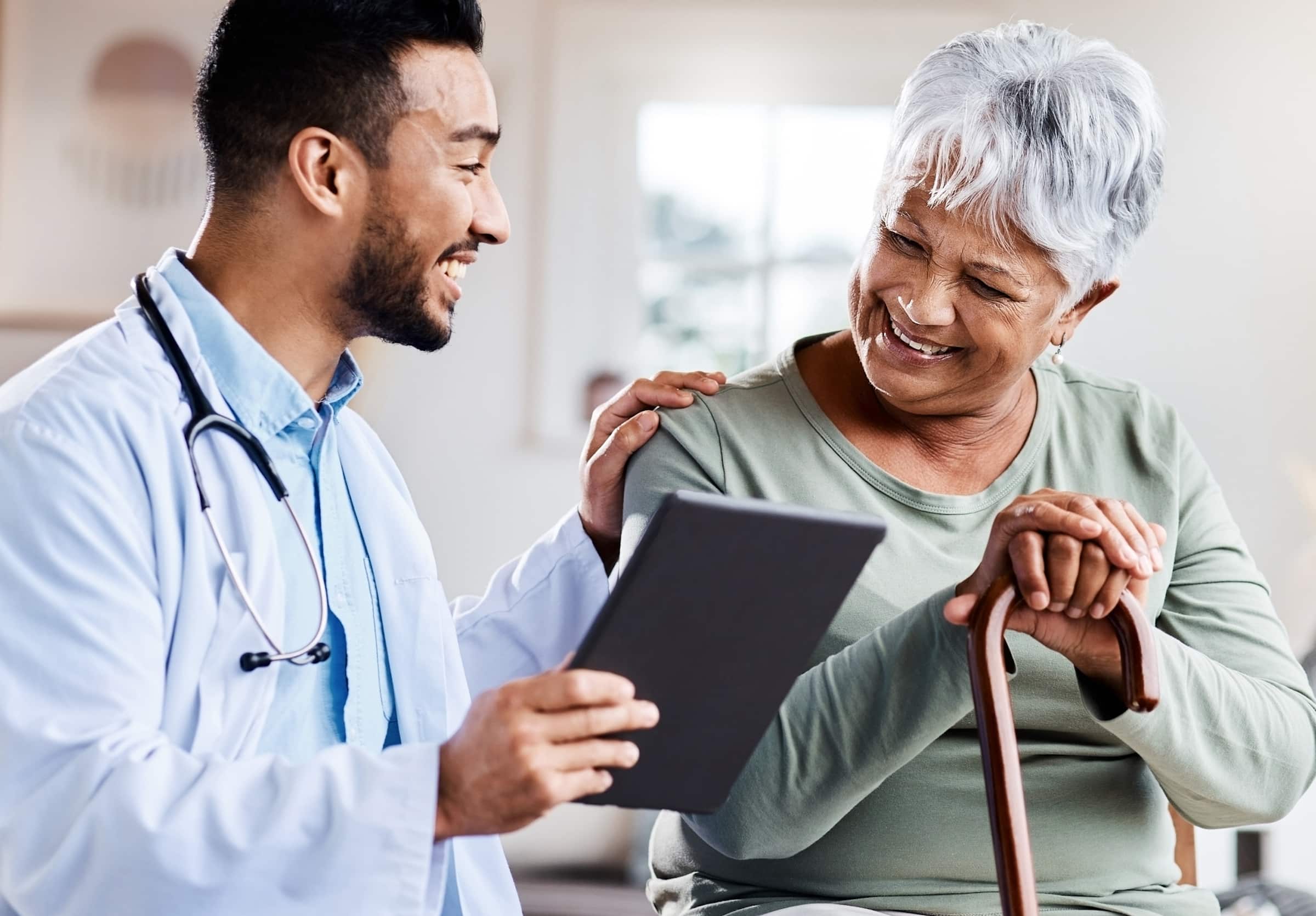 4 Tips for Seniors to Manage Arthritis
Arthritis is one of the most common afflictions in older adults, with the Centers for Disease Control and Preventionnoting that "Of people aged 65 years or older, 49% ever reported doctor-diagnosed arthritis." Not surprisingly, arthritis isn't just one condition but more than 100, all of which cause joint pain and stiffness that can make daily life painful and difficult. While there is no cure for arthritis, there are ways to manage it that really help minimize its impact, when you know what type you have and what treatments work best.
Different types of arthritis
Osteoarthritis is the most common kind of arthritis that occurs when the cartilage protecting the ends of bones wears down. This is generally happens over time but can also be the result on an injury and is most common in the joints of the feet, hands, knees, hips, and spine, and symptoms include pain, stiffness, tenderness, and others described in the mayoclinic.org article, "Osteoarthritis."
Rheumatoid arthritis is an autoimmune disease that causes the immune system to attack healthy cells, most commonly in the joints, causing inflammation and pain. The rheumatoidarthritis.org article, "RA Types: What Distinguishes Types of Rheumatoid Arthritis?" states that there are two types of the disease — seropositive and seronegative — that help differentiate the cause and symptoms. Risk for RA increases with age, is higher in women, and can be inherited. Smoking is another risk factor for adults and children of women who smoke, as is obesity.
Lupus, an autoimmune disease, also lists arthritis among its symptoms, as well as many other health concerns including rashes, kidney problems, extreme fatigue, anemia, skin problems, sun sensitivity, and others described in the lupus.org article, "What is Lupus?"
Gout or hyperuricemia occurs when there is a buildup of uric acid in the bloodstream that causes arthritis pain and inflammation in one joint at a time, most often in the big toe. Although it comes and goes, repeated bouts can lead to worsening arthritis.
Fibromyalgia is another source of arthritic pain and stiffness, although it is generally all over the body and can have other repercussions like fatigue, depression, problems sleeping, headaches and memory problems. People with lupus or rheumatoid arthritis are also at higher risk for fibromyalgia.
Juvenile arthritis occurs in childhood causing pain, stiffness, swelling, fever, tiredness, rash and other symptoms defined in the National Institutes of Health article, "Juvenile Idiopathic Arthritis (JIA)."
4 tips for seniors to manage arthritis
#1 – The most important tip in managing arthritis is to discuss the diagnoses with a physician. Different types of arthritis have different management strategies so the best place to begin is by asking your doctor essential questions like those provided in the emedicinehealth.com article, "10 Arthritis Questions to Ask Your Doctor."
#2 – Physical activity is considered one of the best ways to manage arthritis pain, not only in the moment but for the future. Exercise benefits cartilage, muscles, and bones taking the burden off joints. Exercise also improves sleep, can help with weight loss, and lessens risk of depression and anxiety, all of which can impact life with arthritis.  For a look at how to get the right exercise for the type and location of your arthritis, check out the orthoinfo.org article, "Managing Arthritis Pain With Exercise."
#3 – What you eat is another factor to consider when managing arthritis pain and inflammation. The key is to go with fresh whole foods like those in the Mediterranean Diet and avoid processed foods and those with saturated fats. Studies on the benefits of the Mediterranean Diet that includes fruits, vegetables, legumes, nuts, olive oil, fish and whole grains have an anti-inflammatory as described in the arthritis.org article, "ITIS: A Supercharged Mediterranean Diet for RA."
#4 – Medication can also help with pain and inflammation so that daily life can still be fun and active. Many people with arthritis take nonprescription medications like acetaminophen, aspirin, ibuprofen or naproxen as needed to minimize pain and swelling. Others prefer creams with salicylate, capsaicin, or menthol as the active ingredient. While these may seem harmless, it's always best to confer with a physician before self-medicating to be sure the choices are best for your condition.
Physicians may also prescribe medications when over-the-counter options don't work or cannot be taken. These include corticosteroids, disease-modifying antirheumatic drugs (aka DMARDs) and targeted DMARDs, and biologics. For a complete overview of all the medication options, the arthritis.org article "Medications for Arthritis" is a great resource.
Arthritis doesn't have to slow you down, especially when you live at One Lincoln Park where residents have access to great exercise facilities, nutritious meal options, and many other amenities.
At One Lincoln Park, our emphasis on wellness is evident in everything we do to support our residents in living fulfilling and independent lives. See for yourself the many benefits of living at One Lincoln Park – schedule your visit today.