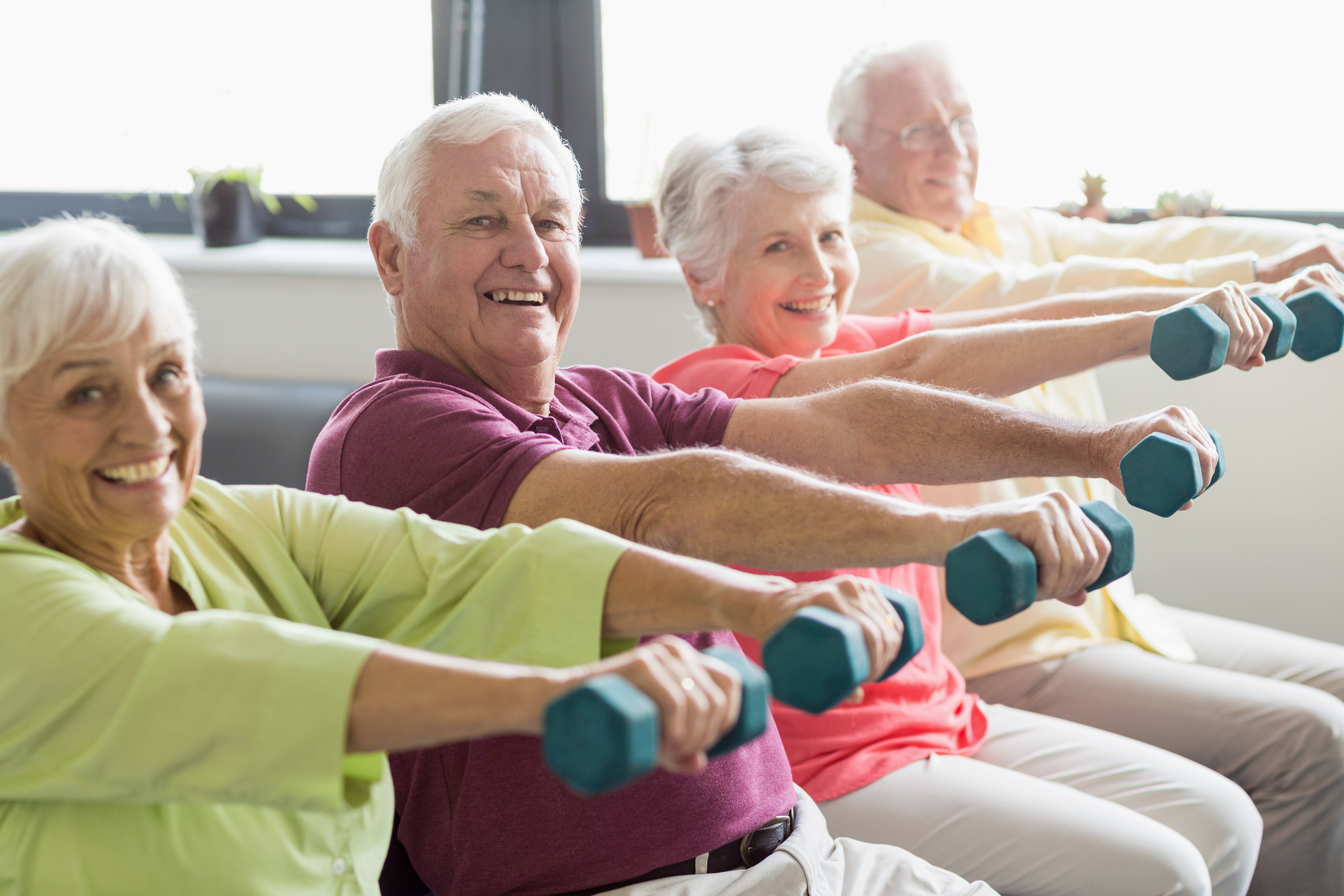 The Wellness Amenities Residents at One Lincoln Park Value Most
Senior living communities have come a long way and today they're no longer a place to grow old, but a place to stay young by staying fit and healthy. At One Lincoln Park our goal is to provide a range of programs and amenities designed to make it easy for our residents to put wellness first every day. When considering what matters most in a senior living community keep in mind all the wellness amenities offered at One Lincoln Park.
The wellness amenities One Lincoln Park residents value most
Wellness amenities that are close to home
Access to health care professionals isn't always easy for older adults who are living at home. At One Lincoln Park they're within easy reach thanks to our onsite Wellness Center that's staffed by professionals from Buckeye Home Health Care. Whether residents have questions, or need a physician referral, a flu shot or a quick blood pressure check, there's no need to drive across town because this wellness amenity is right on campus.
Another one of our onsite wellness amenities is our Heartland Apothecary where residents can get prescriptions filled and enjoy the convenience of shopping for gifts, greeting cards, health and beauty aids, snacks and more without having to drive or find a parking place. These are just two of the wonderful wellness amenities described in our blog, "Amenities and Services: What's Included in the Cost of Senior Living."
Safe and secure at home
Staying healthy in retirement requires a diligent approach to safety and security. While many seniors only worry about keeping intruders out of their homes, they often don't realize their homes may be unsafe inside as well thanks to clutter, stairs and other threats to their well-being. At One Lincoln Park another of the wellness amenities is accessibility, an important part of the package that helps keep residents safe and minimizes opportunities for falls and other accidents. For starters, a quick look around shows there are no stairs to contend with and all common areas are brightly lit, open and clutter free. The same is true of apartments which come in a range of floor plan options and are each designed to eliminate hazards while providing a clean and comfortable living space.
Clean, bright and accessible aren't enough at One Lincoln Park, so we go the extra mile to keep residents safe. For example, we equip each apartment with a transmitter for daily status updates, and each resident receives a Lifeline pendant for their personal safety. In addition, we provide 24-hour security as well as a 24-hour on-call medical aide in the event of a 911 emergency. Not only do residents love these wellness amenities, but their families also appreciate the peace of mind they provide as well. Find out more in our blog, "In Senior Living, Safety and Security Are Part of the Package."
Fitness and fun
Needless to say, staying fit is essential to good health, especially for seniors. According to the mayoclinic.org article "Aging: What to expect," these changes may include loss of muscle mass, hardening of the arteries, loss of bone size and density, decreased strength and stamina, weight gain due to a slower metabolism, and digestive problems like constipation and incontinence. With this in mind at One Lincoln Park we provide not only a well-staffed state-of-the-art fitness center but daily classes like strength and endurance, chair yoga, Tai Chi, and Zumba to meet the diverse needs of our residents. In addition, our location also provides easy access to city parks, walking paths and other outdoor wellness amenities our residents can enjoy every day.
Fitness is important, but so is fun! Our vibrant community offers residents different ways to enjoy themselves playing games, doing arts and crafts, joining clubs, and of course doing it all in the company of friends.  We also schedule trips to local venues, host entertainers and make the most of holidays throughout the year. For seniors who feel cut off living at home One Lincoln Park might just be the perfect solution! Get the facts in our blog, "Socialization and Seniors: Why It's Key to Health and Happiness."
Nutrition is key
All the exercise in the world won't keep seniors healthy if they aren't eating right. Older adults need fewer calories and more protein and fiber than they once did and that's why we make excellent nutrition a priority as one of our wellness amenities. Our chef-inspired meals are as good or better than top-rated restaurants and we welcome guests for visits or special occasions in our private dining room. Even those with special dietary needs enjoy nutritious and delicious meals regardless of restrictions. Find out more about senior nutrition in the medlineplus.org article, "Nutrition for Older Adults."
As you can see, One Lincoln Park is a great place to embrace wellness and healthy aging. Take an online look at One Lincoln Park then contact us to learn more and schedule a tour today!